Betaalmethoden
Bij De Foamtastische Huiskamer kunt u betalen met Ideal, Paypal, Bancontact, Mastercard. Visa, Maestro, Sofort en EPS.
Tevens kun u bij ons betalen met VVV cadeaukaart. Zowel in de webshop als in de winkel.
Hiervoor hebben wij een overeenkomst met Sisow en WorldOnline een betrouwbare partner op het gebied van digitale betalingen. Sisow werkt met volledig beveiligde verbindingen.
Na uw succesvolle betaling, binnen de vertrouwde omgeving van uw eigen bank, ontvangen wij automatisch van Sisow een bevestiging en kan uw bestelling worden afgewerkt.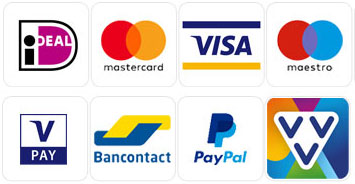 Extra kosten
Aan de meeste digitale betaalvormen zitten voor ons extra kosten, een deel van die kosten nemen wij voor onze rekening.
Maar helaas zijn wij ook genoodzaakt een deel aan de klant door te berekenen.
Tijdens het bestelproces worden die (evt.) extra kosten getoond.
Contant of pin bij afhalen
Kiest u er voor om uw bestelling online te reserveren en dan af te halen in de winkel. Dan is het mogelijk om uw bestelling met pin of contant te voldoen.